Meet Bailey Brooks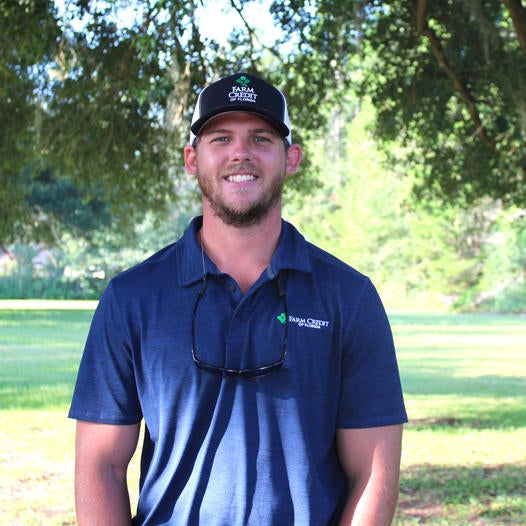 Bailey is bringing his deeply-rooted passion for agriculture to Farm Credit of Florida's lending team as a Commercial Ag Relationship Manager. Based in Palatka, Florida, he joined the team in January and serves the unique needs of our commercial agricultural customers in the counties of Clay, Duval, Flagler, Nassau, Putnam and St. Johns.
Bailey grew up in Wellington, Florida, where his family farmed tomatoes and peppers. His early exposure to agriculture gave him valuable insights into farming, crop cultivation, and the challenges and rewards of working in the field.
Bailey earned his bachelor's degree in Agricultural and Operations Management from the University of Florida and, since graduating, has served in various positions while gaining extensive industry experience. He began his career as a Diagnostic Technician on a local family farm and later worked as a Mechanical Harvesting Assistant Manager at Florida Blue Farms in Gainesville, Florida. He also previously served as a Growing Assistant at Rockwell Farms in North Carolina; as a Scouting and Analytic Crop Assessment Specialist at Highland Ag Solutions in Mulberry, Florida; and as a Sales Manager for Coastal Ag Supply in Immokalee, Florida.
Bailey's diverse experience and extensive knowledge make him a valuable addition to our lending team. He's already forged strong connections with our customers, including those just beginning their agricultural journey, and is always quick to share his expertise and insights.
"It is incredibly rewarding to help people get started in agriculture," Bailey said. "I feel it is a way I can help give back to my community."
"Whether it's sharing tips and tricks, connecting them with resources, or just being there to offer a listening ear, I love being a part of the process," he added. "There's so much potential in this field and I am thankful to be in a position where I can help others tap into it."
Please join us in welcoming Bailey. We are fortunate to have him on our team and cannot wait to witness his positive impact on both our lending team and the agricultural community that we serve.
If you haven't met Bailey or would like to discuss how Farm Credit of Florida can help your operation, please give him a call at (386) 385-7230. NMLS #2454648
Back To News