It pays to do business with Farm Credit of Florida.
One of the most important financial benefits of being a Farm Credit of Florida member-borrower is having the opportunity to share in the association's profits. While most businesses return their profits to outside investors, Farm Credit of Florida believes in the importance of cooperative ownership. In other words, our borrowers ARE our investors, and as such, can share in our profits.
Farm Credit of Florida believes it's important to put our profits in YOUR pockets. 
2022 Patronage Distribution 
We are excited to announce that, thanks to another profitable and successful year, a $16.5 million patronage distribution has been approved by our board of directors. Check out our patronage distribution in millions over the past six years.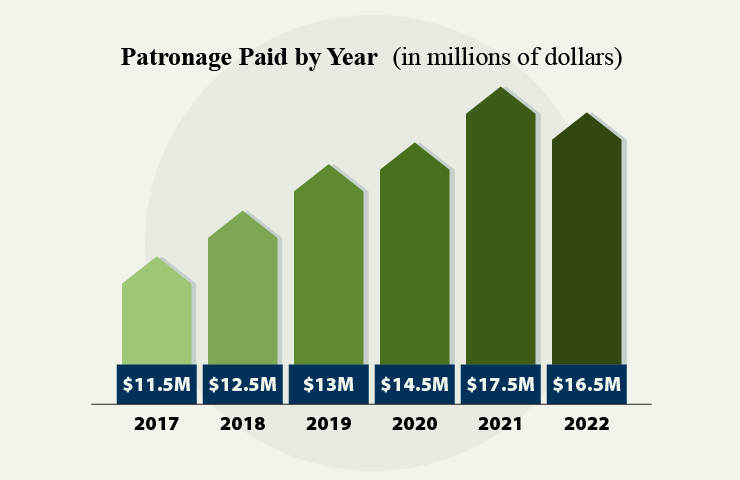 Learn More about Patronage 
What is a patronage refund?

A patronage refund is a way of distributing the Association's profits to its members. The amount of patronage allocated to a member is based on the amount of business the member conducts with the Association.

Does patronage affect my borrowing costs?

Absolutely — in a very positive way. The Association, like other lenders, offers competitive rates and terms, which typically results in a profit. When our Board of Directors elects to distribute a part of those profits, the distribution is allocated to our members based on the amount of interest those members earned on their loans. As a result, patronage effectively lowers each member's borrowing costs.

How is the amount of patronage determined?

 The Association's Board of Directors determines the overall amount and form of patronage each year based on the Association's profits and capital needs. 

While we are committed to the cooperative principal of returning patronage, we cannot guarantee a payment. If a loan or other obligation is in default (or otherwise considered in non-accruing status), any part of the patronage distribution due to the member may be applied to that member's indebtedness to the Association.

What forms of patronage may be declared?

Patronage distributions may be declared in either cash (taxable) and/or allocated surplus which is each member's retained portion of patronage, used to keep the association financially sound.

Patronage may be paid in cash and/or any of the following forms of retained earnings, each of which is evidenced in a written notice form (usually in the patronage refund notice).

How does patronage benefit the Association?

The Association may deduct qualified patronage, including cash and the retirement of nonqualified surplus, from taxable income when computing its taxes. The result is a tax effective way of providing value to members.
We Put Profits in Your Pockets
Having a hard time imagining how great our patronage program is? Check out these members as they experience the program first hand. It's high fives and hugs all around!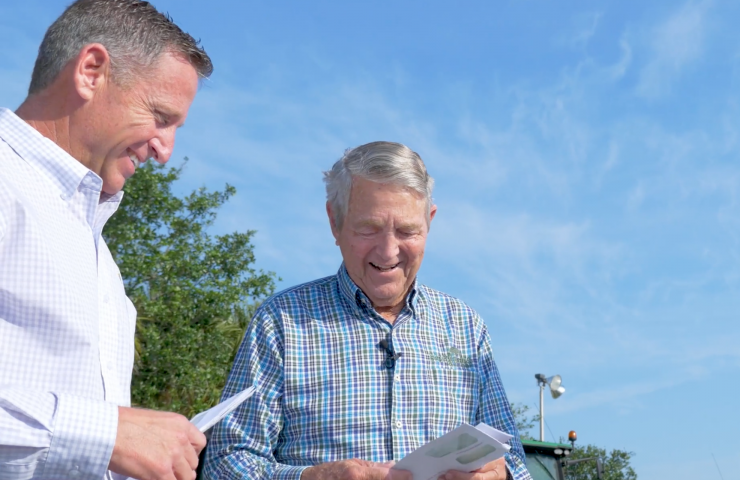 WAtch Video
It Pays to Be a Member
When you borrow with us, you become an owner who shares our profits. Our patronage program is one way we share those profits with you. Calculate how much you could save. 
*This is an estimate of loan payment. Actual payment amount may vary depending on interest rate, closing date, and other factors.
Here is your estimated Patronage Distribution: ESTIMATED PATRONAGE
After receipt of your distribution, patronage effectively lowers your total interest cost for the first year of your loan from $XXXXX to: EFFECTIVE INTEREST EXPENSE
This effectively lowers your interest rate from XXXX to: EFFECTIVE INTEREST RATE
*Results based on 10-year average refund totals. Past performance not a guarantee of future payouts. Calculations do not account for time value of money or distinguish between returns made in cash and in allocated surplus. Talk to a loan officer for details.
Contact Us
Contact one of our lending specialists to find out how to get the financing you need.