Wendy Petteway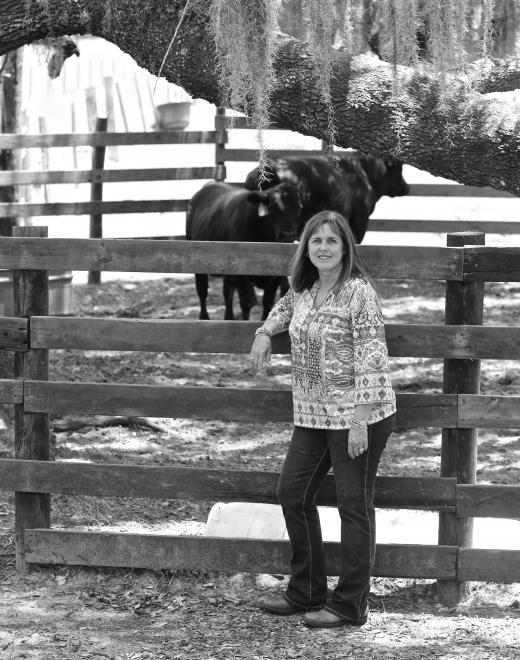 "We learned that whether you are a large producer or a small producer, Farm Credit has got very competitive interest rates, they are very easy to work with and the patronage dividend is just good business."
For Wendy Petteway, past Florida Cattlewomen's president and full time cattle rancher, the agricultural industry is more than just her job; it is her way of life.
"My husband's family moved to Zolfo Springs, Florida in the early 1900s and his family has been involved in cattle since the beginning," Petteway said. "I became involved a short time after we were married. I had a job in town doing similar work that I do now so it just made sense for me to come back and work here."
Once Petteway joined the family operation, they began to expand with the help of Farm Credit.
"We started out with a commercial herd then about 20 years ago we started a separate pure bred Angus herd. It was then that we learned that whether you are a large producer or a small producer, Farm Credit has got very competitive interest rates, they are very easy to work with and the patronage dividend is just good business."
Beyond working full time on her family's cattle operation, Petteway is also heavily involved in the Florida Cattlewomen's Association. She has been a member for over 20 years, serving on the board of directors and eventually becoming president of the association in 2011.
"I think it is important to be involved in the Cattlewomen's association because what we do supports the industry as far as education of the consumer," Petteway said. "We want people to see that beef should be an important part of your diet."
Working with the Cattlewomen's Association has given Petteway a unique perspective on the cattle industry in Florida.
"Through the Cattlewomen's association I get to see both sides of the industry," Petteway said. "I get to raise the cattle here on our ranch and I also get to promote it to the public."
Above working with the cattle and managing the day to operation of the family business, Petteway is also a mother to her son Roy.
"When you raise your child in a ranch setting they learn about life and death pretty young. They also learn about hard work and success at a very young age," Petteway said.
After growing up and receiving an Animal science degree, Roy moved back home and re-joined the family operation.
"To see our son be a part of the business and help us grow the business has made my husband and me very happy," Petteway said. "My dream is that we will be able to continue this business on with each of the future generations of our family."
Back To Customer Reviews