Sweatt Family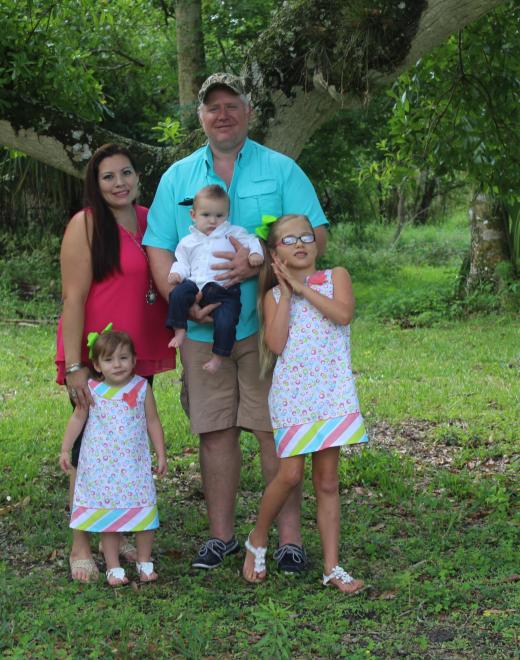 "It would have been a monumental task to get this place financed with anyone else, but Farm Credit and our loan officer made it easy."
For the Sweatt family, living in the country is not just a preference, but rather a lifestyle. When the opportunity to purchase their dream home arose, Kyle Sweatt and his wife Sonia jumped at the chance. All that stood between the Sweatt family and their dream was finding a lender who would finance a home with acreage, which proved to be a tougher task than expected.
"This was my grandfather's homestead here," Kyle Sweatt said. "My grandparents bought this property in the 1960s and built this house in 1962. When they passed they left it to all of their kids, so for us to get it we had to buy it from the other family members."
While purchasing a homestead from other family members is quite common, the number of family members the Sweatt family had to purchase the property from was not.
"My Grandparents had 12 kids, and between that and their spouses and children we had to purchase this house from 23 separate family members," Kyle Sweatt said. "It took us about a year to make the purchase happen due to the number of family members and other issues with the property, but Farm Credit hung in there and guided us through the process."
While the number of family members was a challenge, the Sweatt family also hit a road block while searching for a lender; their dream home was on 30 pristine acres.
"I talked to four different banks and Farm Credit of Florida is the only one that was willing to finance homes with acreage," Sweatt said. "It would have been a monumental task to get this place financed with anyone else, but Farm Credit and our loan officer Martha Kessell made it easy."
Farm Credit of Florida Lifestyle Lending Specialist Martha Kessell was able to get Kyle and Sonia Sweatt financed even though 3 other banks could not.
"We consider Martha a part of our family now," Sonia Sweatt said. "She's not a banker to us anymore. Martha is someone special to us because she made our dreams come true."
While the history of the property and the pride of living on the family land was a driving factor that influenced the Sweatt's decision to purchase the property, conserving a piece of old Florida also played a role in their decision.
"This property is untouched Florida hammock, and there is just not much land like this left," Kyle Sweatt said. "We like knowing that we were able to save a piece of it for our kids and we hope they do the same for theirs."
Back To Customer Reviews