Ismel Vera
Vera's Nursery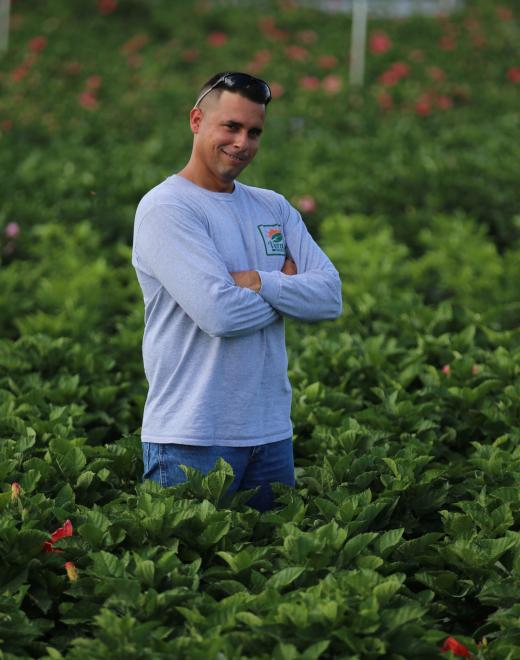 "Farm Credit as the name says everything. They are a bank that supports farmers so I prefer working with Farm Credit than any other banks. We get our support from Farm Credit."
It's a story of the pursuit of life, liberty and happiness: fifteen years ago the Vera family, of Vera's nursery, arrived from Cuba, running away from a regimen that had no room for freedom of speech, liberty, and much less the ability of someone to own a business. Leaving behind everything except a dream, the "American Dream", they brought with them hard working ethics that later turned out to be the very key to their success.
Two years after their arrival the family business was born. The family worked seven days a week, often from 7 in the morning until 5 at night, on only two acres of land. They named their business Vera's Nursery and continued to work hard, never taking a day off, fueled by their passion to grow plants.
"I like the nursery business because you are working with nature," says Ismel Vera. "You can actually see the change in the plants. You take a seed and grow it into one big palm in a 25 gallon container. Growing plants, that's my passion."
Throughout his years of growing, Ismel has learned that what makes him truly successful in the nursery business is this love for what he does. "In this business we learned that when you do what you like to do you see different results in the end. You have to select the business that you are passionate about. Like in my situation, I like the plant business so I'm here in the plant business."
Today, Vera's Nursery consists of more than 100 acres growing fifty different types of palms, shrubs, topiaries, and hibiscus; however, Ismel is not done yet. "I want to try to grow more and get bigger and bigger", he says.
One key to this growth has been the help of Farm Credit of Florida. Ismel says, "Farm Credit has helped me a lot in this business. We want to grow more and more and every nursery that wants to grow needs support from one bank- and we select Farm Credit and for me that is the best bank for my business."
"Farm Credit as the name says everything. They are a bank that supports farmers so I prefer working with Farm Credit than any other banks. We get our support from Farm Credit."
Back To Customer Reviews