George and Cathy Ruxton
Delafuente Farms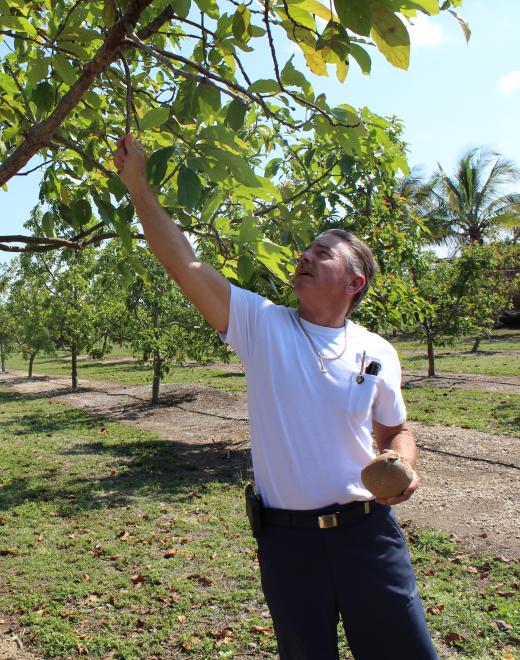 "Anytime someone mentions needing a lender we immediately bring up Farm Credit and share the great experience we had. We recommend Farm Credit to everyone we know."
George and Caridad (Cathy) Ruxton both grew up in Hialeah, Florida on the outskirts of Miami. While the area around them has transformed into a major U.S city and the largest population area in Florida, they have continued Cathy's father's legacy of growing fresh Latin fruit through his company Delafuente Farms.
"Here at Delafuente Farms we have almost 10 acres of fruit trees," George Ruxton said. "We have 145 Mamay trees, 35 Mango trees, 125 Avocado trees and 10 Leechee trees. We sell our fruit to local Latin fruit stands around Miami."
George and Cathy have lived and worked on her father's property since 1994. In that stretch of time they have faced many challenges that come with working in production agriculture, including pests, diseases and even three major hurricanes.
"When hurricane Andrew hit in 1992 we had 9,000 banana trees, and the storm wiped every one of them out. After we replanted the farm we had several good years before Hurricane Wilma," George Ruxton said. "Hurricane Irma was also rough on us, we lost several trees and a good amount of our fruit was blown onto the ground."
While the Ruxton's thought hurricanes were their biggest challenge, they soon found themselves in a tough position; sell the land, or purchase it to keep the Delafuente Farms tradition alive. After Cathy's father passed away, the land was split between all of his children. If George and Cathy wanted to continue living and working on the land they had called home for 24 years, they needed to find a lender that would finance an agricultural property.
"We wanted to keep the family tradition alive so we decided to purchase Delafuente Farms from my wife's family. The problem we faced was we couldn't get a residential loan to buy the property," George Ruxton said. "We called two other banks but they would not finance us because there was too much acreage. Our only option was to get a commercial loan with a high-interest rate, and we did not want to do that."
The Ruxton's then began searching for a lender that would finance acreage, and found Farm Credit of Florida.
"We found Farm Credit of Florida online, and we told them we were looking for a lender to finance the property and the home. Within a week of applying at Farm Credit we were qualified, and the process was simple and our loan officer made it easy on us," Cathy Ruxton said. "Our loan officer Martha Kessell made the entire process seamless, and she was so great to work with. She even went with us to our lawyer's office to guide us through the legal process. Martha went above and beyond to help us, and it meant so much to us since this was the first time we have ever applied for a mortgage."
After Farm Credit was able to finance the farm, the Ruxton's are happy to share their experience with anyone that asks them about buying a place outside of the city.
"Anytime someone mentions needing a lender we immediately bring up Farm Credit and share the great experience we had. We recommend Farm Credit to everyone we know." Cathy Ruxton said.
The Ruxton's also enjoyed receiving a patronage check this year, an added benefit of doing business with Farm Credit of Florida.
"Getting our patronage check helped a lot," George Ruxton said. "I have 5 cars and I was able to pay my car insurance bill for the year with money that Farm Credit gave me back just for being a member."
Overall, George and Cathy Ruxton point to Farm Credit of Florida as a guiding light that helped them through the daunting process of financing a home on an agricultural property.
"Our main goal has always been to carry on my father's legacy since he passed away." Cathy said. "His wish was for us to continue Delafuente Farms, and that's what we did thanks to Farm Credit."
Back To Customer Reviews