Dr. Hal Phillips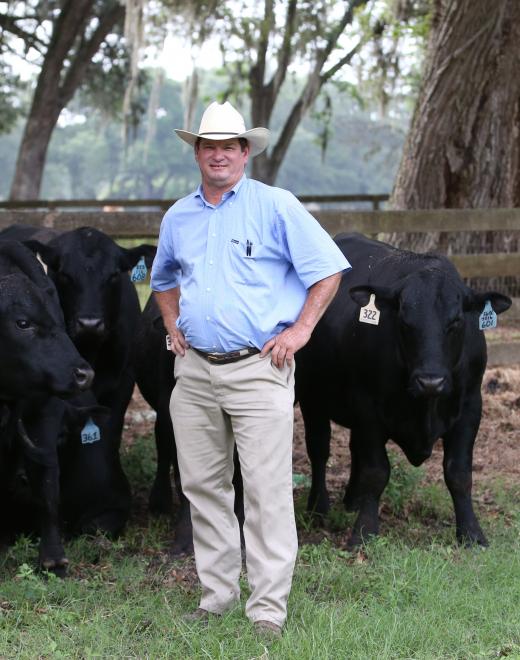 "Anybody in agriculture needs a partner in the lending department and fortunately what is unique about Farm Credit is they pay you for your partnership, and they pay you well for your partnership and for your business."
For Dr. Hal Phillips, being involved in the cattle industry has been a lifelong dream.
Philips started working on his family's cattle ranch in Moriston, Florida at a young age. After attending college at the University of Florida and finishing vet school, Phillips was in public practice for several years before deciding to stop practicing and become a full time cattle rancher.
"I raised my children to pursue whatever passion they have that makes them want to jump out of bed at 6 in the morning and go do," Phillips said. "For me, that passion is cattle. The first thing in the morning is the best time of day with cattle. The calves are usually paired up with their mothers and they are grazing on the pasture. The pasture always looks the best in the morning as well. As the sun comes up it is the dawning of the new day and any day you start like that is going to be a good day."
Phillips looks at each day as a gift; especially those days that he gets to spend working on the land with his wife and his two sons.
"It is only by the grace of God that we were given stewardship of this piece of property and we don't take that lightly. He has chosen our family to steward this land and to manage it to feed a hungry world and we are thankful every day for that opportunity and our goal is to leave it for the next generation better than we found it.
Phillips also enjoys advocating for the cattle industry in Florida through the Florida Cattleman's Association, where he served as the president from 2006-2007.
"In this business you have to follow your passion, but constantly educate yourself. We are in a society that is changing faster than ever before," Phillips said. "Sometimes it's the production things that are changing but most of the time it is the market that is changing, so you need to be involved and you need to be educated."
Another part of Phillips involvement in the industry is his service as a member of the Farm Credit of Florida Board of Directors. In this role he continues to represent the interests of farmers and ranchers and their needs to the leadership of the cooperative. As a member himself, Phillips knows first-hand the benefits of doing business with Farm Credit.
"Anybody in agriculture needs a partner in the lending department and fortunately what is unique about Farm Credit is they pay you for your partnership, and they pay you well for your partnership and for your business," Phillips said. "That's what sets Farm Credit apart from other lenders."
When Phillips looks to the future of the cattle industry in Florida, what he sees doesn't sit well with him.
"The mindset in the cattle industry in Florida for the past 20 years or so has been you either need to be born into it or marry into it and I think that mindset has to change," Phillips said. "When you think about it, less than one point five percent of the population is involved in agriculture. We are going to have to attract people outside of that one and a half percent to continue to feed and clothe a growing world.
To help fix this problem, Phillips sees a solution right in front of him that some people may have overlooked, Farm Credit.
"I think that Farm Credit is doing a good job of helping young people get involved in agriculture that may not have come from an agricultural family but have a desire to get involved in the industry," Phillips said.
He also finds comfort in knowing that his two sons look forward to continuing the family cattle operation after they finish school.
"It has been real rewarding here lately that both of my kids have showed interest in coming back and being involved in the ranch and I think as a father there isn't anything better than that."
Back To Customer Reviews