Dr. Fred Gainous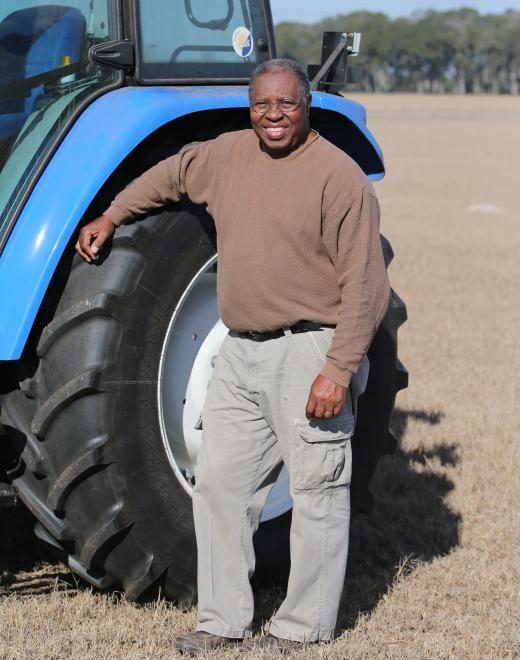 "I've always respected the hard work involved with agriculture, and I am thankful that Farm Credit was able to make my childhood dream of being a farmer come true."
As a young boy, Fred Gainous always dreamed of becoming a farmer. Nearly 30 years later after a successful career in education, his dream of becoming a farmer came true.
Born and raised in Tallahassee, Florida, Gainous did not grow up on a farm. However, he always found the farm lifestyle intriguing. After high school, Gainous decided to study at Florida Agricultural and Mechanical University, earning his bachelor's degree in agriculture. Gainous then went on to complete his master's degree in agriculture and his doctorate of education from the University of Florida.
After graduation, Dr. Gainous enjoyed a long career in higher education, eventually rising to become the president of Florida A&M University.
A Dream on Hold
Although Dr. Gainous enjoyed every minute of his career in education, he still had the same dream in his head that he had as a young boy; to become a farmer. While most are ready to enjoy their retirement on a golf course or in a beach house, Dr. Gainous was ready to retire so he could get to work.
"When it comes to owning a farm, people told me that there were only two ways to be successful," Gainous said. "You have to be born into it, or marry into it. Farm Credit gave me a third option."
Before he could buy a farm, Gainous's first challenge was figuring out what he could grow and how he could be profitable. After some deliberation, he and his wife decided on Coastal Bermuda hay.
"What drew me to a hay farm was the ability to watch something grow and multiply every day," Gainous said. "My wife and I agreed that we could grow quality hay and still stay profitable, and the sunsets over a hay field are simply spectacular."
Back to School
After a career in education, Dr. Gainous was not afraid to go back to school.
"After we decided on growing Coastal hay, I realized that I had no idea how to actually grow hay and run a farm, so I reached out to a farmer in south Georgia, and he agreed to let me be his apprentice for a season," Gainous said.
After his apprenticeship, Gainous and his wife Beverly searched throughout north Florida for the right farm, eventually settling on 80 acres just outside of Live Oak. "When we found the farm we wanted to buy, we said to ourselves, 'Ok, how do we do this without spending all of our life savings?' that is where Farm Credit came in," Gainous said. "Farm Credit rescued our dream of Farm Ownership."
A Dream Rescued
While most people his age are booking their next tee time, Gainous is scheduling fertilizer deliveries and spraying for army worms. He relies heavily on the help of his friends and neighbors in the community, many of whom he met at the annual Live Oak customer appreciation dinner.
When asked to sum up what he has learned from his farm experiences so far, Gainous, without hesitation, replies "Farming will teach you how to pray."
"I've always respected the hard work involved with agriculture, and I am thankful that Farm Credit was able to make my childhood dream of being a farmer come true."
Back To Customer Reviews