Brittany Lee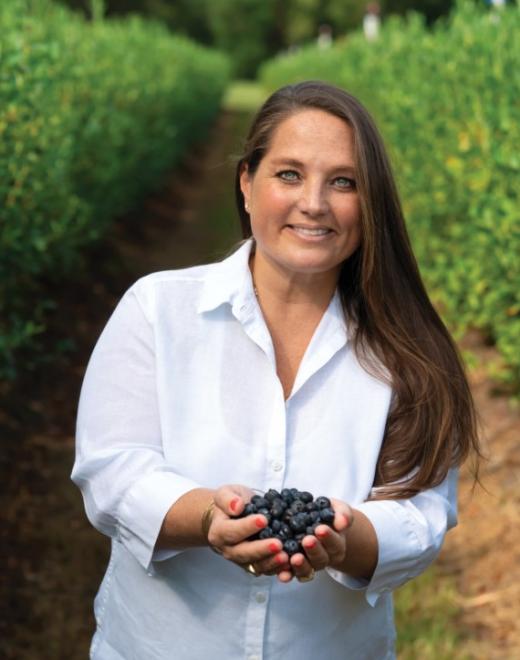 "With the support of Farm Credit we have been able to develop a program to improve best practices and technologies allowing us to become a cutting edge blueberry farm."   
For Brittany Lee, blueberries are not just her livelihood, but her passion. As vice-president and general manager of Florida Blue Farms, Inc., she has become a strong advocate for the Florida blueberry industry.
In 2008, Brittany's parents, Dennis and Caridad Lee, decided to convert a timber tract held by their real estate company in Waldo, Florida into a production blueberry farm, creating Florida Blue Farms, Inc. This decision was not made overnight, but after careful consideration of soil types and climate in north Florida.
New Beginnings
"The property we selected was a timber tract held by the real estate arm of our family operations," Brittany Lee, Vice President and General Manager of Florida Blue Farms, said. "After much research we learned that the property was ideally suited for the establishment of blueberries, as the planted pine provided an ideal level of organic matter and soil acidity for our new operation."
After the timber was harvested, the now clear land allowed Brittany and Florida Blue Farms to plan the layout of the farm, which led to one of their biggest challenges to date: water drainage.
"Managing the flow of water thru our farm has always been a challenge. Blueberries like soil that drains well, so standing water is something that we try to avoid." Lee said. "We were proactive in working with the local water management district to come up with a plan to keep the water flowing off the farm in a safe and environmentally conscious way."
Doing Things Right
Doing things the right way has always been the mission of Florida Blue Farms.
"We are dedicated to conducting business with honesty, integrity, and competence," said Lee. "We believe in faith and family and we are committed to conservation through land stewardship and protecting our natural resources."
Doing things the right way has also led to national recognition for Lee, who was recently appointed by former U.S Secretary of Agriculture Tom Vilsack to the Southern Highbush Blueberry Committee, where she represents Florida blueberry farmers and the blueberry industry as a whole.
As a young farmer, Lee will bring a new perspective to the committee.
"This is an exciting time to be in agriculture - the technological advances available through highly specialized imagery from drones and other aerial methods provide very precise and scientific information with respect to plant health, soil moistures, disease pressures and many other impactful areas. I love incorporating these technologies into our overall farm management plan," Lee said.
Growing a Legacy
Lee is currently working on identifying and cultivating varieties that may be conducive to machine harvesting.  This is still a new and emerging practice in Florida blueberries.
"With the support of Farm Credit we have been able to develop a program to improve best practices and technologies allowing us to become a cutting edge blueberry farm," Lee said.
Florida Blue Farms continues to grow, planting 50 acres in March of 2010, an additional 20 acres in 2013, and are currently working on 40 acre expansion, which will soon bring them to 110 acres of blueberries.
Lee's family is growing as well, as her and her husband Ryan Brown recently welcomed a new baby boy, Jeb, into their family this past January.
"More than anything, we started this farm to leave a legacy for our children and grandchildren," said Lee. "It has always been a family endeavor, and we have enjoyed being part of the Florida blueberry industry and plan to be for generations to come."
Back To Customer Reviews